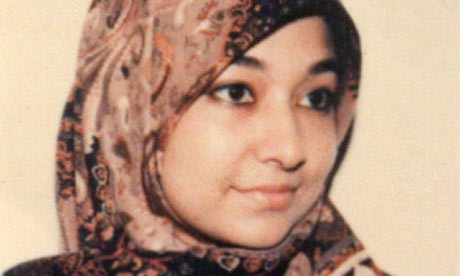 Distressing rumours have been circulating for the past 24 hours that Dr Aafia Siddiqui had died in a US jail, spreading across Twitter from Pakistan-based users of the social networking site yesterday.
By 2pm today, Dr Fowzia Siddiqui had notified JFAC that the rumours were unfounded and that the Pakistani Consulate had confirmed with the prison that Aafia is indeed thankfully alive. They hope to speak to her soon by telephone.

Speaking to The Express Tribune on Wednesday, Dr Maria Douglas, a spokesperson for Federal Medical Center Carswell in Fort Worth, Texas where Dr Siddiqui is serving her prison sentence, vehemently denied rumours and said that it was absolutely false that Dr Siddiqui had passed away, adding that no medical emergency has arisen.
A statement issued by the Embassy of Pakistan said that they and the Pakistani Consulate General in Texas are in regular contact with the FMC Carswell authorities regarding Dr Aafia Siddiqui. "At our query, the prison authorities confirmed today that Dr Siddiqui was quite well. She is also in regular telephone contact with her family and, according to the authorities, last telephoned her family on 19 June 2012."
"An officer from the Pakistan Consulate General in Houston visits Dr Siddiqui at the FMC prison regularly. The last such visit took place in April 2012. Dr. Aafia Siddiqui's brother has also visited her in prison," said the press release.